Introduction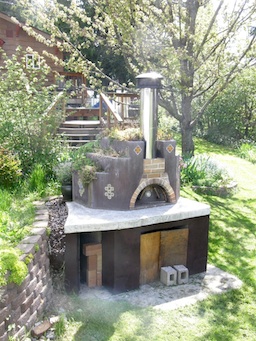 I love pizza. No, wait, let me repeat that: I...love...pizza. So much so that I sacrificed several months of my life — as well as a good portion of my sanity — to designing and building a wood-fired brick oven in my backyard.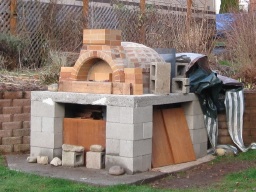 Much to my surprise and relief, I discovered a large and relatively organized online community of people who build wood-fired brick ovens, trade techniques, and offer tons of help to newcomers. The primary source of information and community assistance which I relied upon is Forno Bravo, a website the impetus for which was to specifically design an easy-to-build oven and then give the directions away for free (called the Pompeii oven design) and provide an interactive forum for trading experiences and techniques. I think the guy who runs it might like pizza more than I. If you have even the slightest inclination to build your own brick oven, download Forno Bravo's free Pompeii brick oven plans, join the forum that is organized through Forno Bravo's website, and start asking questions, lots and lots of questions.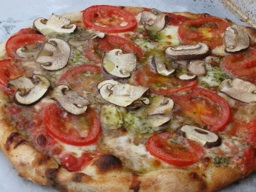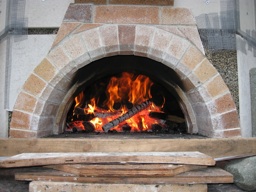 NOTE: As of June 2010, this project is classified as "mostly done". There remains long term aesthetic work, but the oven is fully operational and starting approximately summer 2010 I I took a break.
The first photo shows the oven after I finished the brick dome. The second photo shows the oven as of May 2010 with the stucco enclosure completed and the planters freshly planted. Be sure to check out the extensive photo diary on the construction description webpage. I started construction in September 2009, cooked the inaugural pizzas in February 2010, and completed the surrounding enclosure in May 2010. Work that remains to be done includes:
Surfacing the counter with granite (tiles or slab).
Covering the cinder-block walls (ledgestone or stucco).
Installing hinged doors to the wood storage area underneath the oven.
Covering the foundation (flagstone or brick).